The Benefits Of Arnica Montana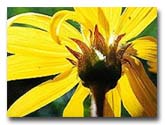 also known as: Mountain Tobacco, Mountain Arnica, Common Arnica, Leopard's Bane and Sneezewort
plant family: Asteraceae
type: Herbaceous perennial
parts used: Roots and flowers
description: Arnica montana or Leopard's Bane is a perennial herb, growing close to the ground. The leaves form a flat rosette, from the center of which rises a flower stalk, 1 to 2 feet high, bearing orange-yellow flowers. The rhizome is dark brown, cylindrical, usually curved, and bears brittle wiry rootlets on the under surface.
habitat: Indigenous to Central Europe, in woods and mountain pastures, although it has been found in England and Southern Scotland.
warning: This herb should NEVER be taken in raw form. This plant, like many medicinal plants if ingested, can cause intestinal bleeding, abdominal cramping and sickness. Homeopathy is the medicinal use of tinctures and suspensions using herbs and other plants and should never be consumed without proper preparation. Only respectable homeopathic remedies and tinctures should be consumed.
Arnica montanahas been used in Europe for centuries to treat swelling, soreness and bruising. This product is often misunderstood when confused with ingesting the arnica plant in its raw form. When properly prepared, Arnica may significantly decrease the healing time or the appearance of such. There are many formulations from different companies. Sublingual (under the tongue) types are the most often recommended for plastic surgery.

Boiron Arnica Cream, 1.33 oz
Boiron Arnica Cream reduces pain, swelling, and discoloration from bruises. It is perfect for use after rhinoplasty and many other cosmetic procedures.Perfect for use after cosmetic procedures or any physical trauma, Arnica Cream reduces pain, swelling, and bruising.

Price: $5.95
---
Boiron Arnica Gel and Pellets Value Pack RECOMMENDED!
Boiron Arnica Gel (2.5 oz) with Arnica Pellets Value Pack will reduce pain, swelling, and discoloration from bruises. It is perfect for use after liposuction, mesotherapy, laser vein removal, and many other cosmetic procedures. Includes 1 pack of 30X

List price $12.75
Price: $11.95
---
Vitamedica Healing Supplements Program
The Healing Supplements Program provides nutritional support to minimize inflammation and to reduce swelling and bruising. Contains Bromelain with Quercetin and Arnica Montana.

Price:
$36.95
---
Arnica Plastic Surgery Recovery Kit
Boiron's Plastic Surgery Recovery Kit contains Arnica pellets that reduces pain, swelling, and discoloration from bruises. It is perfect for use after liposuction, breast surgery, facelift and eyelid surgery, mesotherapy, laser vein removal, and many other cosmetic procedures. The Arnica plastic surgery recovery kit contains 3 Multi-Dose Tubes of Arnica 30C.

Price: $19.95

Other products or supplements that you may heard of or have been recommended may be Bromelain, or even Vitamin A, Vitamin K or Vitamin C -- please discuss these with your surgeon if you are interested or have questions. Visit our very own Cosmetic Surgery Recovery Store for more arnica montana products and other items targeted for Rhinoplasty patients.
Testimonials
Here are various testimonials about Arnica Montana from our visitors. Just remember that this product is not for everyone but has proven itself in most, over and over again. These are actual testimonials and no part has been altered in any way.
"I have been going to your board (Revision Rhinoplasty) for about 6 weeks or so and just had a primary rhinoplasty last week (the 16th). I used the Arnica, both tablets and ointment) and I have absolutely no bruising and a small amount of swelling. I also took vitamin supplements (eliminating vit. E a week before surgery), ate a ton of protein and cut back on carbs two weeks before surgery. This supposedly helped cut back on swelling and promoted healing. I did get the cast off after 3 days and people can't tell I've just had surgery, so it might have worked."

"My doctor told me to buy arnica montana 30X and bromelain tablets as well as vitamin c. This is my second surgery (I had a small bump that grew back) and the bruising was nominal both times."

Ask others about their experiences with arnica montana and bromelain on our message board.